Behold the power of the Lord of Night.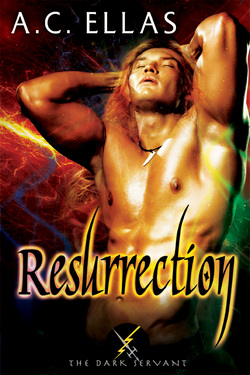 Excerpt:

Once Rak was naked, collared, and behind the training room door, Hasaviz held out a goblet. "Drink this to the dregs."

"What is it?"

Quick as a snake, the whip bit into Rak. "Slaves don't question. Slaves obey."

Rak didn't flinch. "I am not a slave. What is it?"

"It won't violate my oath. Not poison. Not another slave fire potion." Hasaviz sipped from the goblet and held it out. "Drink."

Rak took the goblet and drained it.

Hasaviz guided him to the couch and laid him down on it. He strapped Rak's limbs down with sensual relish, and after all four extremities were restrained, he ran his hands down Rak's flat, muscular abdomen. The Loftoni was still dancing fit, with little fat and well defined muscles. But the lithe build ensured that he didn't appear freakishly overbuilt like some of the dray slaves who were fed potions that made their bodies develop to a fantastic level.

He waited until the sedative was at full effect before he began. Uncle Narvain would have his balls, literally, if the secrets of the control spell got out. He removed the training collar, to prevent its magic from interfering. After this, he wouldn't need its power to keep the slave in his place. He removed a carved wooden box from a niche behind a false stone and took out the tiny golden dagger.

He used this blessed, magical blade to nick his first finger. He pressed the bloodied digit to a specific spot on the tattoo on Rak's abdomen and murmured, "Earth linked to flesh, the substance of my blood to command the body of this slave."

When Hasaviz lifted his finger, no trace of blood remained on Rak's skin. He smiled in satisfaction and then cut his second finger, pressing it to the tattoo in a different place. "Fire linked to will, the heat of my blood to overpower the will of this slave."

Again the blood vanished, the power threading into the spell permanently embedded in Rak's skin. Hasaviz cut his third finger, pressing it to the precise spot the spell required. "Air linked to mind, the strength of my blood to command the mind of this slave."

The blood was accepted, so he cut his fourth finger and pressed it to the tattoo, saying, "Water linked to heart, the flow of my blood to inflame the passions of this slave."

The spell was almost complete now, and the lines of the intricate form glowed in the colors of their elements. Hasaviz cut his thumb and pressed it in the center of the spell form. "By earth, fire, air, and water, and by the shedding of blood, I claim this slave." The glow vanished into Rak's skin as Hasaviz lifted his hand. No physical evidence remained, but Hasaviz could sense his power over the sleeping priest. Rak was his now.