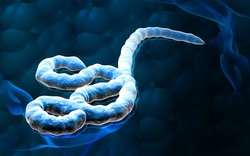 There's a confirmed case of Ebola in Texas and everyone is now freaking out about the virus. Here's my take on it.

I'm surprised it took this long to get here.

Fact, this outbreak has been going on since March of this year. Multiple countries are involved. The virus spreads mainly by person to person contact, but there are also some indications that the virus might be able to spread briefly through the air, as by droplet (coughing) transmission.

Fact, Ebola has a long incubation period, up to twenty days. It's debatable if the person who's infected but not yet symptomatic is contagious, indications are that they're not, but we don't know that for sure.

There are those calling for quarantine of everyone traveling from the outbreak countries. While it's a nice thought, it won't work. It's too easy to cross borders. To go from, say, Liberia to Egypt or South Africa, or anywhere else on our small globe, on one carrier and then to the United States on another. So the only way an airport quarantine will work is if we put ALL international air travelers into a three week quarantine before letting them out into this country. That just isn't practical. Not to mention the hard feelings it would cause.

So, what can you do to protect yourself? You can wash your hands. If hand-washing is an effective means of preventing the flu, which is airborne, it should help here, too. Also, don't touch people who are known to be infected with Ebola. (One of the interesting things about this virus is that the infected person remains contagious even after they've died, so it isn't even safe to handle their remains)

This outbreak has a lower mortality rate than most Ebola outbreaks, but it's spreading quickly, aided by unsanitary living conditions and a fear of healthcare workers. Here in the US, one would think things are different.

However, in regards to the case in Texas, what the hell? The man came into the ER, complaining of not feeling well and TOLD them he'd been in Liberia. They sent him home with antibiotics. Home. With antibiotics. Two days later, he came back and was admitted for Ebola. I have lots of problems with this. As a healthcare professional, I think that ER doctor was incredibly negligent. If I were in his shoes and a patient recently arrived from Liberia came in complaining of a hangnail, I'd admit them and stick them in isolation--just in case!

To send that person home, a person who was already symptomatic and therefore highly contagious, is negligence bordering on criminal, for how many other lives were put at risk? This outbreak might have a lower mortality than earlier ones, but it's still 50-60% kill rate. That is, HALF of all people who contract it, die.

Next issue. Antibiotics. Now, I've lived in east Texas. I know how they think. They hand out antibiotics like they're candy-corns and it's Halloween. You have a sniffle? Here, take some Amoxicillin. This ER doc sent the Ebola patient home with antibiotics. People, just FYI, antibiotics only work on bacteria. They don't do viruses. Nothing, really, does viruses. Giving antibiotics for viral infections only serves to teach your native bacterial populations resistance. That's how superbugs like MRSA and VRE are born.

But enough of my anti-antibiotics-for-everything spiel. What do you think of the Texas case? Do you think it will spread? Are we looking at the next pandemic?

Personally, I think we are. I think Ebola has the potential to be another Black Death. 50% mortality. All it needs to succeed is time.