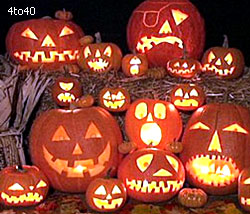 The tradition and history of Halloween has always interested me. The holiday, like so many others, has pagan roots. Halloween is mostly derived from the Celtic celebration of Samhein (pronounced sow-in, not sam-hine like a certain movie would have you believe). But like so many holidays, Halloween is not all one thing. There are several pagan roots feeding into the traditions of modern Halloween, replacing the ancient harvest festivals. The early Christians were clever, replacing the pagan festivals with celebrations of their own rather than trying to eliminate the celebration. But it amuses me that tonight we celebrate the thinning of the barrier between the living and the dead, much like ancient peoples have done for thousands of years, by carving vegetables to frighten away ghosts and dressing our children in costumes to placate or trick the evil spirits into leaving the kids alone.

The Christians didn't totally ignore the purpose of Halloween, the passing of the light half of the year into the dark half and the thinning of the veil between life and death. All Hallow's Evening became, over time and due in part to Scottish influence, AllHallowEen, then simply Halloween.

In our modern culture, Halloween has gone from a dark holiday full of tradition and mysticism to a commercialized celebration of candy and drunken costume parties. Myself, I find I prefer the older traditons.